Can you imagine a world without plastic? 
Plastic is integrated into almost all areas of society, and as consumers, we know that it is highly affordable, easy to produce, and highly durable. But it is this impressive durability that causes the earth so much devastation. Simply put, plastic does not disappear. Because plastic is so relied upon, especially for disposable packaging, business owners must act now to find and adopt sustainable solutions. 
The mass production of plastic didn't come into play until as recently as 1950, yet single-use plastic is now the cause of a global plastic pollution problem. By the 1990s, plastic pollution had more than tripled, with over 60% of all plastic waste making its way into landfills or the natural environment. 
How does it feel when we consider that almost every piece of plastic ever made is still in circulation? So just how much plastic are we producing each year – more than 380 million tonnes. 
This article will discuss ways we can live without plastic and how this will directly impact the environment. By highlighting the impressive single-use plastic alternatives, which are now available or in the trial phase, we can see that companies are ready to embrace new innovative designs and ideas. 
How Will Plastic Alternatives Help The Environment? 
The global dependence on plastic has resulted in severe environmental consequences. 
Reducing plastic consumption is notably a challenge – but it is possible to shift this problem and create a viable solution. Much of the technology and policy models already exist. Nevertheless, consumers must continue to fight hard to push Governments and large corporations to action. Why? Because there are roughly 11 million tons of plastic flowing through our oceans every year.
According to an article in Sage Publications, Plastic Pollution and Potential Solutions, 2018 – "Plastic accounts for around 10% by mass of municipal waste, but up to 85% of marine debris items – most of which arrive from land-based sources."
Product packaging and packaging redesign are ways we can reduce plastic waste generation around the world. Such potential solutions aim to reduce our reliance on single-use plastics, minimise the volume of waste produced, and provide alternatives to the recycling crisis. However, the idea that we can simply recycle plastic is a misunderstood concept, with research showing that 9% of all plastic ever produced is recycled. 
It is time to recognise that this 'throw-away culture" is damaging the environment on an unprecedented level.  Alternatives are needed to protect both the environment, marine and land animals and the future of human health.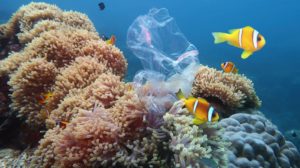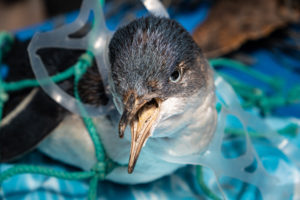 iStock photos by tunatura & tsvibrav  
What Type Of Materials Could Replace Single-Use Plastic? 
As new technology emerges, plastics are also being produced from renewable materials. According to VTT, a leading research intuition in Europe, "plastics based on natural fibres are an exciting alternative to replace fossil-derived plastics. 
In the future, they may replace plastics in, for example, packaging, hygiene products, building materials and textiles". 
Here are just some of the excellent alternative materials being used to replace plastic:
Stainless Steel

Glass

Platinum Silicone

Beeswax 

Natural Fibres including organic cotton, bamboo and hemp

Sustainably sourced wood

Sustainable sourced or recycled paper

Compostable materials and food-grade materials such as rice, mushroom and seaweed

Banana leaves 

The Broader Challenge Of Replacing Plastic – Plastic Is Everywhere
Replacing plastic is one of the most significant challenges we currently face. 
Let's take a look over some of the key reasons it is not that simple to replace all forms of plastic:
Finding a durable and affordable alternative that results in a desirable product is one of the main challenges. 

Most modern plastics are made from accessible and affordable fossil fuels like natural gas or petroleum.

Plastic is considered irreplaceable by corporations because it is cheap, strong, lightweight, and resistant to corrosion. 

The most common uses of plastic are in packaging and building components.

In the medical industry, certain medical products must be disposable and remain necessary. So we must focus on the areas where we can reduce plastic consumption, such as excessive food packaging in healthcare settings. It is important to note that many

substitutions do not provide adequate protection

for the medical and research industries.

Personal hygiene products are sometimes seen as wasteful. Yet, in many cases, they provide affordable hygiene and sanitation options for our

most vulnerable communities

. In addition, food banks and community centres often stock supplies and food packages for those in need or the case of an emergency. Purchasing in bulk and from local suppliers may reduce plastic packaging – though the focus is on meeting supply and demand. 
Innovative Companies Are Leading The Way – A Growing Industry 
'The situation is already dire, but there are remedies available not only to solve but also entirely reverse the devastation plastic propagates on the world.'  Interesting Engineering, 2018
Here is a quick list of companies who are leading the way towards plastic-free alternatives:
The Happy Turtle Straw is

a 100% compostable and biodegradable drinking straw alternative that protects marine life and removes plastic straws from the natural environment. The Happy Turtle Straw's packaging is designed with 100% recycled kraft material and does not contain any glue.

Newlight Technologies

is a California-based company that has created a plastic alternative called

AirCarbon

.

Biolive

is a Turkish company creating plastic from olive seeds.

MarinaTex

is a UK-based company that uses marine algae and waste from the fishing industry to create shopping bags. 

Ecovative Design

is a NY based company which is using 100% compostable resources to make product packaging.

NotPla

is a product made from seaweed and is considered an edible plastic alternative for food packaging. 

Oceanworks

uses recycled plastic to create new products, hoping to keep plastic out of the ocean. 

VTT,

one of Europe's leading research institutions,

has developed new materials through gasification and various food and product packaging applications that are partially produced from the bio-waste mass. 
Final Thoughts 
The good news is that there are emerging solutions for the plastic pollution crisis, but to reverse the damage, we must begin to make sustainable and eco-friendly swaps starting today. It is true that in specific settings, reducing and removing single-use plastic is not a viable option. However, this means we must pay attention to the areas where we can make a difference, such as the tourism and hospitality industry. Replacing plastic packaging, bags, straws, containers, and cups is one of the ways businesses can start making a positive shift towards biodegradable products today!
Recognising this fact, brands such as The Happy Turtle Straw have already made a substantial positive impact on the marine environment with their plastic-free and 100% biodegradable product. The Happy Turtle Straw company has produced a range of drinking straws made from food-grade ingredients that do not harm marine life. The straws replace the need for single-use plastic and are an affordable and practical solution for business owners. 
https://www.thehappyturtlestraw.com/ 
References:
https://endplasticwaste.org/en/our-stories/the-plastic-waste-problem-explained?gclid=CjwKCAjwqeWKBhBFEiwABo_XBsC4xJcf-FrcG4oppBBTWGU21V4Zhk-E1TJx0C6PD_9zeY4p5X8ODhoCamwQAvD_BwE
https://www.waterlogic.com/en-us/resources-blog/earth-day-2018-imagine-a-world-without-plastic/
https://www.unep.org/interactive/beat-plastic-pollution/
https://theconversation.com/there-are-some-single-use-plastics-we-truly-need-the-rest-we-can-live-without-99077
https://planethome.eco/plastic-alternatives-a-growing-market/ 
Quote reference: 
https://interestingengineering.com/how-to-eliminate-plastic-waste-and-plastic-pollution-with-science-and-engineering#:~:text=It%20is%20not%20impossible%20to,and%20the%20technology%20already%20exists.&text=Right%20now%2C%20there%20are%20viable,the%20plastic%20which%20already%20exists.