During the course of 2022, minuscule plastic beads started appearing on the shores of France and Spain.
The tiny beads, officially known as industrial plastic granules (IPG), measure less than 1.5mm and are melted down to manufacture everyday plastic objects.
Tiny plastic beads called "mermaid tears"
Over the course of two months, several waves of these plastic beads, later dubbed "mermaid tears", have washed up on Brittany's beaches and, in December 2022, they were found in Finistère and then Sables d'Olonne and Pornic, with more and more plastic washing ashore due to winter winds and water currents.
Because of their small size (usually they are smaller than 5 mm in size), they are almost impossible to collect, despite the great efforts of volunteers.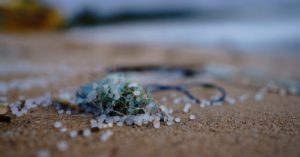 Plastic beads washed up on a French shore
In response to this "environmental nightmare," French Ecological Transition Minister Christophe Béchu announced on January 21st 2023 that the government is pursuing legal action.
But where did the plastic beads come from? 
No one is exactly sure, even though officials have tested some samples and are working on identifying their origin in order to take legal action.
Shipping containers floating in the ocean
NGOs and other environmentalists have their own theories. Indeed, they believe the "mermaid tears" fell from some shipping containers in the Atlantic Ocean.
"It could very well be that one or more loaded containers of plastic pellets have been lost in the North Atlantic and are spilling their cargo on adjacent beaches or released from a container already lost some time ago," says Cristina Barreau, Surfrider's microplastics research officer.
What can be done to clean up the plastic pellets?

During the month of January, the Surfrider Foundation organized a "day of action" throughout France to clean up its beaches. In December of last year, volunteers were able to gather over 80,000 of these pellets from the beach in Tréguennec, Finistère, in under an hour. It's estimated that roughly 160,000 tons of these tiny beads are lost each year during the production process in the European Union exclusively.
Volunteers looking for plastic beads on a beach in Pornic
The Surfrider Foundation argues that the industry must assume responsibility and take action to address this plastic pollution. Although some French legislation against the problem already exists, such regulations cannot be applied outside of the country's territory, where the pellets are dispersed into the water.
NGOs and environmentalists are urging the EU to drastically reduce its plastic production with strict guidelines, since prevention is key. Cleaning up spills of such tiny beads is almost impossible, making prevention the only solution.
The vision at The Happy Turtle is that all single-use products we manufacture should be designed to be safe for the environment and animals. It is fundamental for the conservation of wildlife to produce more biodegradable or plant-based products, such as our rice and tapioca straws.
This is the only way forward, this is the only acceptable condition for all single-use products.
Find out more about our products here: https://www.thehappyturtlestraw.com
Educate yourself further here:
https://www.euronews.com/green/2023/01/24/france-to-take-legal-action-over-plastic-pellets-causing-an-environmental-nightmare-on-its
https://www.bbc.co.uk/programmes/p0dyh15s