Founded in 2020, a dynamic brand was launched by Axel and Nhat while traveling Vietnam and witnessing the plastic pollution crisis. After much research, an alternative to single-use plastic straw was created; The Happy Turtle Straw (THTS). 
With Alex and Nhat having roots in Vietnam, the founders distribute a portion of the profits to support local farmers, supplying the community with clean drinking water and helping endangered sea turtles. So if there is an eco-friendly brand worth getting behind and supporting, The Happy Turtle Straw needs to be on your list!
Why Does It Matter?

Globally it's estimated that approximately 52% of all sea turtles have eaten plastic.
Turtles are under threat from plastic pollution. Single-use plastic straws can accidentally be mistaken for food and lodge in the turtle's nose or throat. Sea Turtles are rare and endangered animals facing a severe threat of extinction globally. 
Did you know that Vietnam has a coastline that stretches more than 3260 kilometers (2025 miles) home to various sea turtles? That is why numerous species are now protected following Vietnamese Law. 
Research on marine life has shown that over 52% of turtles have eaten plastic, while over 91% of turtles entangled in discarded fishing nets died. Furthermore, plastic straws, in particular, that don't break down can easily become lodged in a turtle's nostril, causing harm and a significant threat to its chance of survival. Today, the videos and photos of straws lodged in the nostrils of sea turtles have led the movement in many countries to ban single-use plastic straws due to the outpouring of concern for the turtle's welfare. In light of this, The Happy Turtle Straw is safe for turtles to eat, it contains no chemicals and is a source of plant-based food for marine life. 
Plastic marine waste emits methane when it is exposed to sunlight. As a result, microplastics can undermine oceans' resilience to climate change, including disturbing the carbon stored in marine and coastal ecosystems. This demonstrates that plastic pollution contributes to climate change and releases harmful greenhouse gases into the atmosphere. 
Once plastic enters the ocean, it breaks down continuously into smaller pieces called microplastics. Microplastics harm entire ecosystems and minimize the ocean's resilience to climate change. 
Companies need to start switching their packaging to sustainable and biodegradable alternatives to reduce the staggering amount of single-use plastic waste used daily from entering the natural environment. For example, it is estimated that over 500 million plastic straws are used per day in the US and that there are over 8 million tonnes of plastic flowing into the ocean every year!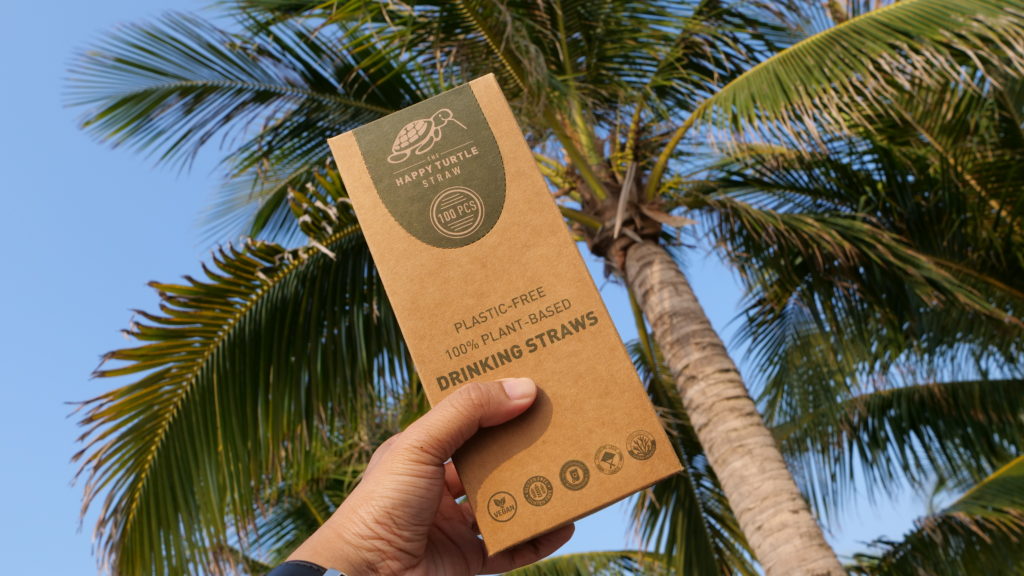 The Happy Turtle Straw's packaging is designed with 100% recycled kraft material and does not contain any glue.
Not all plant-based, biodegradable straws are created equal. The ingredient list must not harm marine life if the straw enters the natural environment. THTS is made from rice and tapioca flour, plus they are 100% chemical-free. THTS straws will biodegrade in 90 days or less. 
Plant-based products are in demand. Research surveys show that consumers are more aware of their impact on the environment than ever before. From plastic-free packaging to vegan alternatives in the supermarket, ethical fashion, cruelty-free beauty, and everything in between; the earth-friendly movement is a force to be reckoned with. 
According to the Business Wire, a major study of more than 10,000 people over 17 countries highlighted that consumers purchasing choices are highly influenced by sustainability – viewing themselves as catalysts for change. Furthermore, 85% of people say they have shifted their individual purchasing behaviour with a goal of being more sustainable. 
Sustainability and veganism are closely linked, vegan brands are more likely to consider environmental impact and vice versa. The Happy Turtle Straw is proudly 100% vegan; made with no animal products. Vegan business growth has uncapped potential with the market sector continuing to expand at a rapid rate. In addition, customers do not need to be vegan to appreciate eco-friendly alternatives. 

Become a Pro Ambassador by showing your commitment to sustainability. By becoming an ambassador of The Happy Turtle Straw, you too can contribute to a better future for the fauna of our oceans and help spread our vision. Whether you are an individual or a professional, you have a fundamental role to play. 
When you sign up to be an ambassador, there are several incredible benefits for your brand, including:
A personalized promotion kit (logos, stickers, coasters)

Increased visibility through THTS social media page and website

Access to exclusive offers and opportunities 

Show your customers and investors you're committed to the environment 

Competitive Advantage
According to Strategy Business, 'Consumer packaged goods companies, retailers, and grocers have long been paying attention to their customer's growing demand for eco-friendly products.'
There is no doubt that plastic straws are not on-trend. Single-use plastic is not sustainable, and many countries have banned the sale of plastic straws. Consumer interests have shifted dramatically towards sustainable alternatives in many areas of daily life, including fashion, tourism, and hospitality. 
Today, THTS is based in Switzerland and will be expanding to the UK, France, and Spain shortly. The global eco-friendly straws market is estimated to expand. Researchers expect the eco-friendly market to experience significant growth in the upcoming years. No matter where your business is located worldwide, there is consumer demand for sustainable, plastic-free alternatives. 
In addition, social media plays a significant role in consumer spending, with social influencers and celebrities endorsing humanitarian causes charities and representing eco-friendly brands. The rise of the eco-friendly consumer is just one reason businesses need to understand how this trend helps sales and also takes care of the environment. 

The Future Is Plastic-Free
What does a zero-waste future look like? 
There is no doubt that single-use plastic and plastic production, in general, is an ongoing global challenge. Plastic production shows no signs of slowing down yet inspiring solutions such as biodegradable straws that are safe enough to eat are now in demand by eco-friendly consumers. 
As business owners, taking a stand against single-use plastic packaging does not need to have a disadvantage. Don't be left behind, plastic-free is the future of hospitality and tourism sectors with eco-friendly brands making it mainstream faster than we can keep track.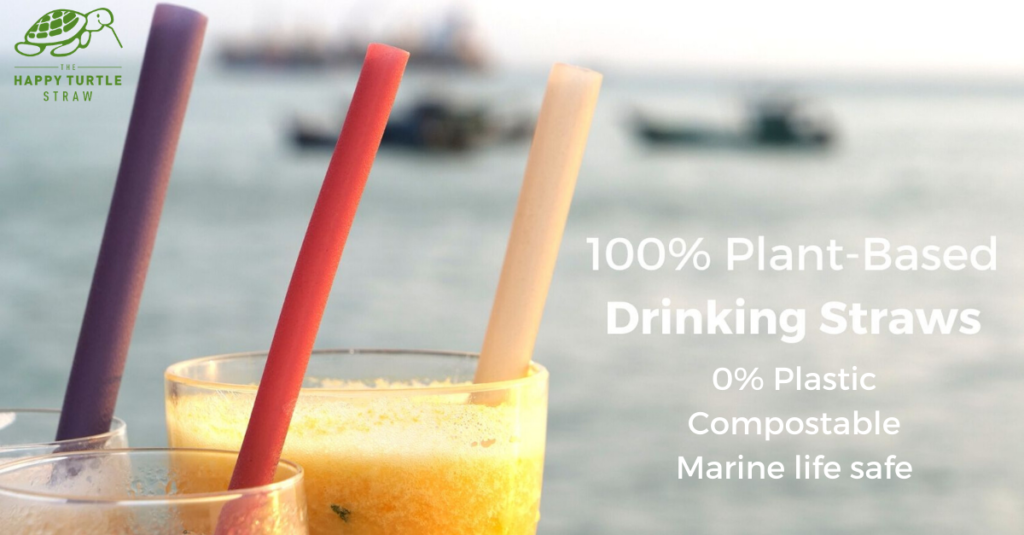 Reference List
https://www.strategy-business.com/article/The-rise-of-the-eco-friendly-consumer 
https://bioplasticsnews.com/2020/01/03/single-use-plastic-bans-geneva/ 
https://www.oceancare.org/en/the-exceptionists-the-swiss-approach-to-the-plastic-crisis/
https://www.thehappyturtlestraw.com/our-story/ 
https://en.vietnamplus.vn/protecting-sea-turtles-on-con-dao-island/219998.vnp#:~:text=Ba%20Ria%2DVung%20Tau%20 
https://seas-at-risk.org/general-news/microplastics-and-climate-change-our-ocean-needs-bold-decisions/ 
https://www.nationalgeographic.com/environment/article/news-plastic-drinking-straw-history-ban 
https://www.wwf.org.au/news/blogs/plastic-pollution-is-killing-sea-turtles-heres-how#:~:text=Globally%20it's%20estimated%20that%20approximately,sea%20turtles%20have%20eaten%20plastic.&text=According%20to%20their%20findings%2C%2091,of%20turtles%20due%20to%20plastics.